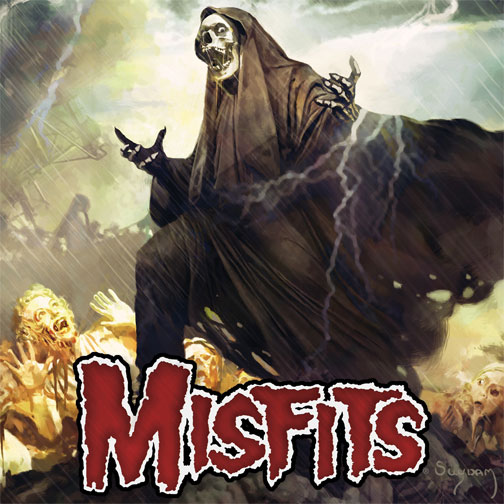 I've mentioned before that I am a big Misfits fan. Though I like all eras, I definitely prefer the Graves-era to the Danzig-era. That being said, I haven't been too into the Only-era. The Project 1950s CD was fun, but I saw it more as a novelty than a serious release. Nothing that would make my Misfits top ten or anything. So when I heard that the newest incarnation of the Misfits was going to put out a new CD, I wasn't expecting much.
But wow, was I mistaken.
The Devil's Rain
is an amazing album. Jerry really out did himself here
.
The album is a nice combination of all the different eras of the Misfits. There are tracks that sound right off of
Legacy of Brutality
,
Famous Monsters
,
Walk Among Us
, and even one with a
Project 1950s
sound. Jerry's vocals have improved in leaps and bounds. He may not be the powerhouse Graves was, but he is every bit as good as Danzig was back in the day.
All that being said, there is also an underlying sound to the album that is totally new. It makes me think of Johnny Cash doing hard rock.
Some of the album
highlights
for me are:
Father
- a heavier track with an almost oldschool Judas Priest sound.
Land of the Dead

-
a very catchy punk track with a
Walk Amoung Us
meets
American Psycho
sound.
Dark Shadows
- an INSANELY catchy punk/thrash kind of track. This could have easily been on
Famous Monsters.
Devil's Rain
- the title track has the most unique sound on the whole album. It reminds me of the
Return of the Living Dead
soundtrack. It's mid-tempo, dark, and as I said, almost Johnny Cash-like.
I also recommend buying the CD as opposed to digital. It has really nice packaging and art and comes with a poster.
I think any fan of horror rock will like this album. Of course, many Danzig purists probably won't even give it a shot. But I go on record and say this,
The Devil's Rain
is damn sure better than anything Glen has done in the past twenty years.